If you are considering moving from Colorado to Arizona, then you must have questions about long-distance moving. Moving isn't easy, but moving to Arizona is certainly worth it! The Grand Canyon state not only boasts very nice weather but also has an incredibly strong economy. That, along with low living costs makes Arizona the perfect place to move to.

Not to mention, the Grand Canyon doesn't even do justice to how beautiful the landscape of Arizona is. If you are looking for a scenic state that also comes with employment opportunities and comfortable life, moving from Colorado to Arizona certainly is the best choice for you.

We should mention though that there are certain cons of moving to Arizona. The traffic can be a handful, there are lots of rattlesnakes around, not to mention you have to be incredibly careful when perusing through the Grand Canyon. All things considered, however, Arizona is definitely a state worth moving to. Regardless of which city in Arizona you are moving to, you will need to hire a long-distance moving company.
What Services Do Long-Distance Movers Provide?
There is a multitude of services that you can avail of when moving from Colorado to Arizona. Long-distance moving companies offer services ranging all the way from packing, unpacking, and storage to moving single pieces of furniture.

For full-service moves, the long-distance movers will arrive at your Colorado home with packing supplies and packing all your belongings, then drive them to your new home in Arizona. However, if you think you can pack some belongings yourself, then you can always go for a partial packing service! Here, the movers will only pack specific pieces of furniture, while you pack the rest.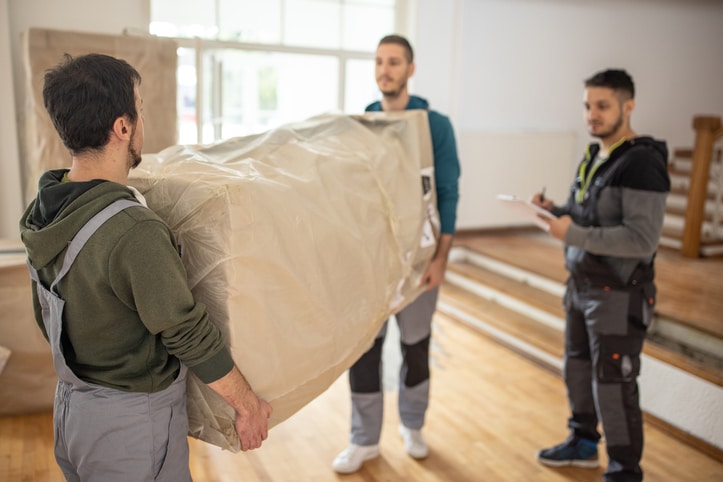 If you live in an apartment complex that doesn't have a storage unit, you can also avail yourself of storage services. You can keep all your belongings in the storage unit, and when the time comes for you to move from Colorado to Arizona, the long-distance movers will drive your storage unit to your new location.

When moving across state lines, you will definitely need to move heavy appliances. What if you can pack and move everything by yourself but you need help moving your washing machine, dishwasher, and drier? Don't worry- because long-distance movers from Colorado to Arizona provide heavy appliance moving services as well.
If you have expensive pieces of furniture, like a very expensive painting, a pool table or a large musical instrument, that need moving, you will be happy to hear that long-distance moving companies also provide services where you can move a single piece of furniture!
How Much Will Move from Colorado to Arizona Cost?
It's difficult to give an exact value of your total cost while you are moving from Colorado to Arizona. This is because your final cost will depend on a multitude of factors; which cities you are moving from and to, what specific service you availed, which company you hired, etc. For instance, if you hired multiple different services, your cost will be a lot more than if you just hired a partial packing service.
Additionally, long-distance movers charge based on both weight and mileage. Most professional movers charge a flat rate for every 100 miles. Some are also charged based on cubic feet. On average, however, moving from Colorado to Arizona can take anywhere between $3000 to $8000, depending on external factors. Also, don't forget to tip your movers! It's customary to tip about 10-15% of your total cost.
If you are looking for an instant moving quote, do consider filling up our form. It will take you a maximum of two minutes, and you can easily avail of free no-strings-attached instant moving quotes to compare rates between moving companies!
How can I Choose the Right Moving Company When Moving from Colorado to Arizona?
Choosing the correct moving company which will help you move from Colorado to Arizona can be a tall order. This firstly depends on which city in Colorado you are moving from, and which Arizona city you are moving to. Some popular destinations include Phoenix, Tuscan, Chandler, Glendale, Scottsdale, and Mesa. Where you are moving of course depends on a lot of factors, like job availability, real estate pricing, population, and other factors which you consider to be important!
If you are looking for affordable and reliable movers who can help you with moving from Colorado to Arizona, here are a few recommendations.
| | | | |
| --- | --- | --- | --- |
| Name | Rating | US DOT | ICC MC |
| Whitaker and Sons | 5 | 2534223 |   |
| Trinity Relocation Group | 5 | 3218709 |   |
| American Van Lines | 5 | 614506 | 294798 |
| Allied Van Lines | 5 | 076235 | 15735 |
| Infinity Van Lines | 5 | 1443732 | 545673 |
| Alliance Movers | 5 | 2398933 | 824939 |

Note that this is not an exhaustive list, but it may help you begin your research.
Conclusion

Before choosing the correct Colorado-to-Arizona long-distance mover, do seek the counsel of your friends and family who have moved to Arizona.

When you start looking for long-distance moving companies, make sure that their customer service is amicable. If you are looking for a cost-effective moving company, you need to ask them what the estimated total cost will be. You will need to start a registration process with the company that you ultimately choose, and depending on the services you need they will come and survey both your current and future home to give you a final cost.
Additionally, make sure to do thorough research on the internet. Most professional movers have active websites where they post the services they offer. Other details like available routes, cost estimates, and reviews are all available on their websites. If you are still unsure about which specific mover you want to hire and you are still looking around, perusing through a few websites is a very good idea! You can easily compare reviews of different long-distance movers, and also take a look at the specific routes they use. As we have said before if you are looking for an instant moving quote you can always fill out our form as well.
Arizona is undoubtedly a wonderful state to live in. It's vast, it's affordable, and it has plenty of job opportunities, so we completely understand your decision to move from Colorado to Arizona. However, as moving is a big commitment and there is no one-size-fits-all solution for everyone, you must research long and hard before settling on a specific moving company. We hope this has helped you in your research, and we wish you a very happy move.