Long Distance Moving Companies in South Dakota
When it comes to moving to South Dakota, You must hire moving companies in South Dakota. South Dakota has one of the lowest population densities in the country. Previously known as the Dakota region, the area was divided into two parts in the late nineteenth century: South and North Dakota. Latitude and longitude coordinates are 44.500000, -100.000000.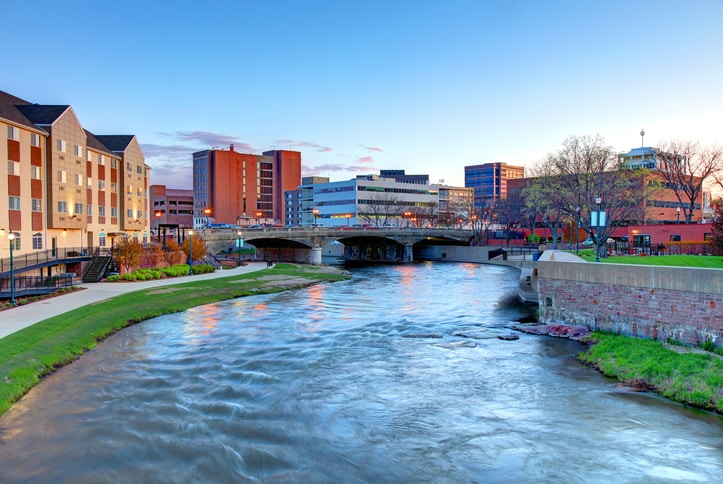 Top 5 Moving Companies In South Dakota
Affordable Moving
Dakota Moving
Brouwer Relocation Inc
U-Pack
TWO MEN AND A TRUCK®
Affordable Moving
Affordable Moving LLC is a South Dakota-based moving company. They are a company that prioritizes the customer. They are dedicated to serving the people of South Dakota diligently. Their customer service principles uphold values such as courtesy, integrity, and transparency. Affordable Moving LLC strives to meet each and every one of its customers' needs.
Award: Our pick for insurance plans
Service Model: Full service
Founded: 2014
Rating: 4.7/5
Address: South Dakota, USA
Dakota Moving
Dakota Moving is a locally owned and operated company. The company was founded in 2013, and since then, they have completed over 4450 moves. Dakota Moving has grown its business nationwide by adhering to the principles of strong work ethics, prioritizing customer satisfaction, and providing quality service.
Award: Our pick for long-distance moves
Service Model: Full service
Founded: 2011
Rating: 4.6/5
Address: 8012 W Vista Park St, Sioux Falls, SD 57106, United States
Brouwer Relocation Inc
Brouwer Relocation Inc is a South Dakota-based moving and relocation company. Southeast South Dakota, Northwest Iowa, and Southwest Minnesota are served. They are a family-owned company that was established in 1969.
Award: Editors' choice
Service Model: Full service
Founded: 1969
Rating: 4.7/5
Address: South Dakota, United States
U-Pack
U-Pack is a moving company that specializes in self-service container moving. Unlike the other companies on this list, U-Pack is a hybrid moving service that charges you only for the services you actually require for your move.
Award: Our pick for a financing
Service Model: Full service
Founded: 1997
Rating: 4.5/5
Address: 900 E 50th St N, Sioux Falls, SD 57104, United States
TWO MEN AND A TRUCK®
TWO MEN AND A TRUCK® is a large franchised moving company that serves clients from all over the United States. They began as a local mover more than 30 years ago and have since grown to become one of the top moving companies in the country.
Award: Our pick for the easy claims process
Service Model: Full service
Founded: 1985
Rating: 4.6/5
Address: South Dakota, United States
Why do people move to South Dakota?
The hunting and fishing in South Dakota are among the best in the world. You've come to the perfect location if you enjoy hunting and fishing.
South Dakota's highest-paying job
For those looking for work, South Dakota offers a wide range of career options.
As the world's fastest-growing economy, it has a large number of job openings. Furthermore, in comparison, the income level is relatively high. Some of the highest-paying jobs in South Dakota are as follows:
Industrial Truck Driver

Clinical Physician Assistant

Certified Registered Nurse Anesthetist

Public Health Dentist

Family Practitioner

Emergency Medicine Specialist

Owner/Operator

Operator and Truck Driver

Endoscopy Registered Nurse

Telemetry Registered Nurse
Source of Income
According to 2009 World Bank forecasts, South Dakota's economy would be the 62nd largest in the world, trailing China, Iraq, and Croatia, and the 64th largest, trailing Iraq and ahead of Libya, according to 2009 International Monetary Fund projections. According to the Bureau of Economic Analysis' November 2010 estimate, the state's nominal GDP in 2009 is projected to be $63.34 billion, with a real GDP of $55.04 billion.
Habit and Nature
Locals see their Mountain State neighbors as having a "strong feeling of community," as well as being "unpretentious" and "humble." Others have even stated that South Dakotans are the "nicest people on the earth," and despite their strong state pride, they are quite hospitable to strangers.
Weather
Throughout the year, the temperature normally ranges from 25°F to 82°F, with temperatures rarely falling below 10°F or rising over 88°F.
Rent a house
Rental homes in South Dakota begin as soon as $250 to $350 a week 2 bedroom homes and can go up to $1,135 per month for larger properties. Several of the rental homes have views of the beach or the ocean and are in quiet areas. The peace and quiet are a big plus, and it is often most desired by vacationers.
Food
A single adult in South Dakota spends an average of $2,962 on food each year, while a family of four spends $8,555. To put this in context, the average yearly food expenditure in the United States is $3,240 for a single adult and $9,354 for a family of four.
The cost of gasoline
Now, a gallon of regular gasoline in Wisconsin costs around $4.085.
Natural Resources
South Dakota's hills and hollows conceal a plethora of natural beauties, ranging from rugged summits to subterranean caves. Some are in enormous national parks, while others are on little plots of private land, but they are all stunning and unique in their own way.
Demography
South Dakota has an overall life expectancy of 74.5 years. Women have an average life expectancy of 77.3 years, while men have an average life expectancy of 71.9 years.
Why Should You Hire Moving Companies in South Dakota?
In South Dakota, there are two kinds of moving companies. If you are moving within the city or state, you will need to hire a local mover. If your move exceeds 100 miles, you may be moving into or out of the state. The main reason for hiring Moving Companies in South Dakota is that they offer a wide range of beneficial services.
Hiring The Best Moving Companies in South Dakota
BuzzMoving.com Locate The Best moving companies in South Dakota – Save money by getting free moving quotes from pre-screened movers in South Dakota, SD.
Read More About Other Moving