Are you considering moving to Kentucky? You must hire moving companies in Kentucky. The state has a beautiful setting and incredible flora and fauna. It is best known for its endless bluegrass fields, earning the state the moniker 'The Bluegrass State. Latitude and longitude coordinates are 37.839333, -84.270020.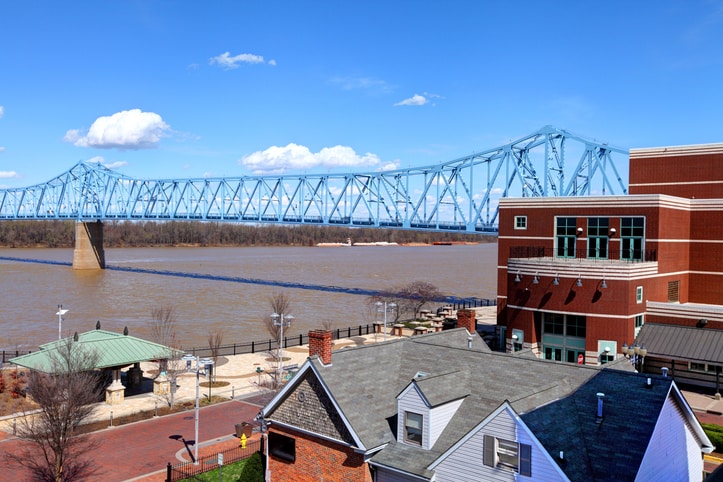 Top 5 Moving Companies In Kentucky
International Van Lines

American Van Lines

JK Moving

North American Van Lines

Allied Van Lines
International Van Lines
International Van Lines is a trusted moving company in Kentucky. Since 2000, International Van Lines (IVL) has helped people move to more than 180 countries around the world. If you're moving to or from Kentucky, IVL doesn't outsource its services.
Award: Our pick for insurance plans
Service Model: Full service
Founded: 2011
Rating: 4.7/5
Address: Kentucky, USA
 

American Van Lines
Another excellent option for a full-service mover is American Van Lines. The experienced team of movers at American Van Lines is prepared to handle your most difficult items, such as pianos and antiques.
Award: Our pick for long-distance moves
Service Model: Full service
Founded: 1933
Rating: 4.6/5
Address: Kentucky, USA
Allied Van Lines
As the oldest moving company in the United States, Allied Van Lines maintains a vast network of moving agents in all 50 states and more than 130 countries. The company offers full-service local, long-distance, and international moving, as well as partial-service packages for do-it-yourselfers and optional add-ons such as storage and vehicle transportation.
Award: Editors' choice
Service Model: Full service
Founded: 1928
Rating: 4.7/5
Address: 5200 Interchange Way Suite 100, Louisville, KY 40229, United States
JK Moving
JK Moving is a full-service moving company that specializes in customization. Each move is assigned a move coordinator who will devise the most efficient and secure method of transporting your belongings.
Award: Our pick for a financing
Service Model: Full service
Founded: 1982 
Rating: 4.5/5
Address: Kentucky, USA
North American Van Lines
North American Van Lines has been in business since 1933 and has a large network of providers across the country and around the world. Customers can create customized moving packages by utilizing the company's numerous add-on services, such as electronics crating and vehicle transport.
Award: Our pick for the easy claims process
Service Model: Full service
Founded: 1933
Rating: 4.6/5
Address: 1900 Fortune Dr. Suite 100, Winchester, KY 40391, United States
Why do people move to Kentucky?
In the state, there are numerous farms and large nature preserves, particularly in the state's eastern region, which is home to Daniel Boone National Forest, a massive and well-known natural park.
Kentucky's highest-paying job
For those looking for work, Kentucky offers a wide range of career options.
As the world's fastest-growing economy, it has a large number of job openings. Furthermore, in comparison, the income level is relatively high. Some of the highest-paying jobs in Kentucky are as follows:
Family Medicine Physicians

Nurse Anesthetists

Senior Vice President, Engineering

Judges, Magistrate Judges, and Magistrates

Staff Physician

Chief Executives

Computer and Information Research Scientists

Senior Director Of Engineering

Computer and Information Systems Managers

Architectural and Engineering Managers
Source of Income
According to Britannica, The economy of Kentucky, which is based on manufacturing, trade, mining, agriculture, tourism, and other services, varies by region. The Bluegrass is a prosperous region with a plethora of manufacturers and amenities. The Pennyrile is also diverse and prosperous, but economic conditions in the Western Coalfield and Mountain regions fluctuate with coal demand.
Habit and Nature
Although Kentucky's culture is generally considered Southern, it is distinct in that it is also influenced by the Midwest and Southern Appalachia in certain areas of the state. The state is well-known for bourbon and whiskey production, tobacco production, horse racing, and college basketball.
Weather
Throughout the year, the temperature typically ranges from 28°F to 88°F, with temperatures rarely falling below 12°F or rising above 94°F.
Rent a house
Rental homes in Kentucky begin as soon as $200 to $300 a week 2 bedrooms homes and can go up to $1,100 per month for larger properties. Several of the rental homes have views of the beach or the ocean and are in quiet areas. The peace and quiet are a big plus, and it is often most desired by vacationers.
Food
A single adult in Kentucky spends an average of $2,932 on food each year, while a family of four spends an average of $8,467. To put this in context, the average annual food expenditure in the United States is $3,240 for a single adult and $9,354 for a family of four.
The cost of gasoline
Now, a gallon of regular gasoline in Kentucky costs around $3.97.
Natural Resources
Kentucky isn't known as a mountainous state, but we do have a mountain range, with Black Mountain as its highest peak. There are hiking trails, overlooks, and other activities in the area that make it worthwhile to include it on your bucket list.
Demography
Kentucky has an overall life expectancy of 78 years. Women have an average life expectancy of 77.9 years, while men have an average life expectancy of 72.6 years.
Why Should You Hire Moving Companies in Kentucky?
In Kentucky, there are two kinds of moving companies. If you are moving within the city or state, you will need to hire a local mover. If your move exceeds 100 miles, you may be moving into or out of the state. Long-distance movers will be required in that case. The main reason for hiring Moving Companies in Kentucky is that they offer a wide range of beneficial services.
Hiring The Best Moving Companies in Kentucky
BuzzMoving.com Locate the Best moving companies in Kentucky – Save money by getting free moving quotes from pre-screened movers in Kentucky, KY.
Read More About Other Moving